Need
According to the World Bank and International Monetary Fund, women's vocationally-oriented education fuels economic development. Without such access, young women are at high risk of entrenched poverty. As much as 76% of the Haitian population is considered "rural," yet humanitarian support typically focuses on Port-au-Prince. In rural, northern Haiti, average monthly income is less than $100, even less for women. About half of the population never attends school at all. But with a high school diploma and the rights skills, incomes rise.
Dream
Building that inspired the question,
"What if there was a place or project to
provide innovative vocational training?"
In 2010, High Hopes Haiti originator Lauren James proposed an empowerment project to benefit young women in the region of Tovar/Tremesse/Grison-Garde/Morne about 90 minutes from Cap Haitien. Joined by current project catalyst Courtney Jackson, the next 18 months were spent research women's development projects in Haiti and the Caribbean. Interviews were conducted with managers of manufacturing, healthcare and service companies confirm that jobs will be available to young women with enhanced English, computer and business skills. They met with community leaders to dream about careers for young women that go beyond working in the market and sewing. They outlined a program of leadership development, vocational training and mentoring for high school girls and young women ages 15 to 30 – one that could become a model in Haiti and beyond.
Results
XO Laptops made available through the
Waveplace Foundation were the project's first
use of technology to spark imagination.
Through start-up donations, a grant from the Methodist Church of Britain, and collaborations with Waveplace Foundation, Hands for Haiti, and the STARS Alliance at the University of North Carolina at Charlotte, our High Hopes Haiti project began in 2012. To date, we've provided XO laptops, training, four personal development workshops including a month-long Summer Institute, and nine months of weekly group lessons (underway through June 2014). In April 2014, we established a working partnership with respected Haitian women's organization AFASDA (Association Femmes Soleil d'Haiti), provided funding to launch Internet services at one of the organization's telecenters in Cap Haitien, and became the model provider of vocational and leadership training at the center with our current cohort of 12 young women. Facilitated by High Hopes Haiti project catalyst Courtney Jackson, the group has launched two entrepreneurial businesses.
A year of Internet service at a new
telecenter in Cap Haitien gives participants
a new way to communicate with the world.
Long-Term Impact
With funding, the goal is to launch every August a new cohort of young women benefiting from a year-long leadership development and vocational program with High Hopes Haiti. In a spirit of "give back," all participants must agree to, in return for training, make a volunteer difference. Beginning in 2013, the current cohort provided weekly lessons to school children in their home communities.
Leadership
Lead Volunteer Project Catalyst
Courtney Jackson
Project Originator Lauren James
Graduate student Eric McGinnis
coaches computer use for research.

Courtney Jackson, an experienced marketing and sales professional in the US, serves as lead volunteer project catalyst and often says, "I'm in this for life!" She coordinates with project originator Lauren James, a former project manager for Mothering Across Continents and current in-country Haiti liaison for UMCOR. University of Delaware computer studies graduate student Eric McGinnis plays a key role, having made multi-week training visits to Haiti and continuing to consult on new technology developments for the project.
I Care Book Fair Selection
On that Day, Everybody Ate
by Margaret Trost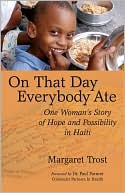 Margaret Trost was in her 30s when her husband died suddenly of asthma, leaving her to raise their young son alone. In despair, seeking meaning in her life and in her husband's death, she accepted an invitation to visit Haiti as part of a pilgrimage of reverse mission, to serve the poor as a means to transform the providers.
This is a moving account of her immersion in the West's most impoverished nation. As she struggles to make sense of such extreme conditions existing so near the US, readers discover with her the healing power of reaching out. In straightforward, conversational prose, with humility, candor, and love, Trost shares the story of a serendipitous flow of events that guided her on her passage from despair to hope.

Order your copy:
Paperback

Find other inspiring stories about women, men, children and families making change in the I Care Book Fair.